About Us
Opened in 1969 as primarily a framing gallery, we have nearly 40 years of experience in custom framing. We now also offer a complete line of contemporary home and office furniture, and a vast collection of canvas art, framed art and local art, creating a truly one-of-a-kind space.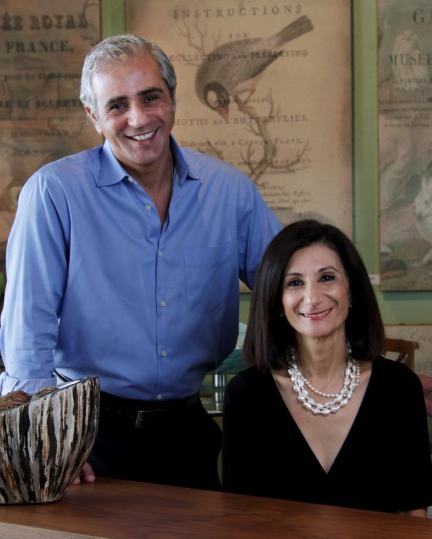 Edward Nader, Jr. & Margaret Love
An Unstoppable Sibling Duo
This brother and sister partnership has developed one of the most unique and inspiring spaces around. The gallery space has recently expanded from 1,000 square feet to over 10,000, allowing ample space to house the largest and most unique collection of art and contemporary furniture in the region. We have something for every taste and budget and are regularly adding new items to our inventory.
The Forum, a magazine local to Shreveport, has named Nader's Gallery one of the five coolest spaces in the city. Here you will find visually aesthetic and quality products that you can't find anywhere else. We have carefully chosen our affordable inventory from companies in New York, Italy, London, Paris, and more.
We've created a fun and relaxed atmosphere to help you find the pieces that will allow you to live comfortably with style. Come see our knowledgeable, friendly staff and enjoy the personal service we love to provide. We are open Tuesday through Thursday from 9:30 A.M. to 5:30 P.M.
We trusted Nader's Gallery to reframe a family heirloom and it turned out beautifully. My aunt crocheted The Declaration of Independence Signing over 30 years ago and we wanted someone who would take exceptional care when framing it. They did a remarkable job of hand-stitching the crochet to the backing and preserving it for us with archival framing. It is just gorgeous.
Edward has a true talent and a very artistic eye that most do not. His gallery is unlike any other in town. He truly cares about each of his clients. It is a treat to shop here and bring some of Edward's artistic ability into your home.
After a devastating house fire and an enormous amount of water damage to our home and possessions, we started the rebuilding and restoration process. Our insurance company connected us with Nader's Gallery and this, by far, was the best part of the 2+ year process. At Nader's Gallery, you will find professional, kind and extremely competent people who take a personal interest in you. Margaret Love, Edward Nader, and everyone at the gallery truly treats you like family. Nader's restored our family heirlooms, antique paintings and pictures, and after the restorations and lovely framings, they looked better than they had in many years. Their work is impeccable, and the customer support is second-to-none. They communicated regularly, keeping up updated and informed. At the gallery, we found lovely furniture and accessories and even unique and fun gifts. We can't give enough praise and thanks to Margaret, Edward, and the entire Nader's Gallery family. We unconditionally recommend Nader's Gallery.
Nader's Gallery is the best! They just completed my custom framing and it is perfect! Margaret and her staff are very kind and helpful. They offer suggestions that compliment the artwork or photograph. Sometimes I just ask them to pick out the best frame for the piece and I am never disappointed. I have used Nader's to frame several pieces and am always confident of the high quality of their work. Thank you Nader's Gallery!
Nader's Is my favorite place to shop for home decor, art, and unique gifts in Shreveport. Margaret and Edward are delightful and always go above and beyond to make you feel at home and help you find lovely pieces. I could browse their inventory for hours and never leave empty handed. Nader's is truly a Shreveport gem and I highly recommend! You won't be disappointed.